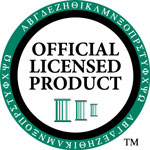 Kappa Alpha Theta was founded in 1870 as the first Greek-letter fraternity for women. We value our history and take pride in our four founders, who were truly visionary. We also value what we offer today's women! Our vision statement Kappa Alpha Theta is the organization that provides the finest and most rewarding membership experience is based on our core purpose and values. Our purpose is to support members to learn, grow, and excel, and our core values are personal excellence, friendship/sisterhood, scholarship, service, and leadership.
Featuring Kappa Alpha Theta Sorority Merchandise including Kappa Alpha Theta T-Shirts, Kappa Alpha Theta Sweatshirts, Theta Polos, Bags, Kappa Alpha Theta Greek Lettered Apparel and other Kappa Alpha Theta gifts.
Need a custom order for your Theta chapter? Contact your Kappa Alpha Theta Account Manager (Brayden Jessen 888.501.5510 brayden@zomedesign.com) to get started with your greek custom apparel order right away.