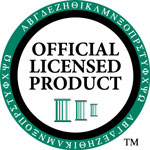 Welcome to the Gamma Phi Beta Online Store. Here you will find a large selection of Gamma Phi Beta Screen Printed, Embroidered & Tackle-twilled garments. Our Gamma Phi Beta store offers greek letter hooded sweatshirts, screen print and embroidered shirts, sweatshirts, hats, tote bags and much more.

Need custom apparel for a group order? Contact your Gamma Phi Beta Account Manager to get started: Brayden Jessen 888.501.5510 - brayden@zomedesign.com.
Zome is a licensed Greek Vendor. A percentage of the sales from this web site help support your National Sorority.