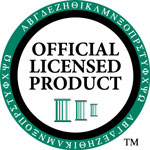 Delta Gamma
offers to women of all ages a rich heritage based on principles of personal integrity, personal responsibility and intellectual honesty. Its primary purpose is to foster high ideals of friendship, promote educational and cultural interests, create a true sense of social responsibility, and develop the finest qualities of character.
Delta Gamma
was founded on December 25, 1873, in Oxford, Mississippi, at the Lewis School for Girls near the University of Mississippi.
Featuring Delta Gamma Fraternity Merchandise including Delta Gamma T-Shirts, Sweatshirts, Polos, Bags, Greek Lettered Apparel and other Delta Gamma gifts.
Need a custom order for your DG chapter? Contact your Delta Gamma Account Manager (Brayden Jessen 888.501.5510 brayden@zomedesign.com) to get started right away.