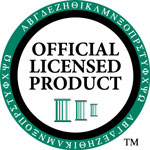 Alpha Phi is a membership organization dedicated to promoting sisterhood, cultivating leadership, encouraging intellectual curiosity and advocating service. Alpha Phi develops character for a lifetime.
Alpha Phi
() is a fraternity for women founded at Syracuse University on September 18, 1872. Its celebrated Founder's Day is October 10.
Featuring Alpha Phi Sorority Merchandise including Alpha Phi T-Shirts, Sweatshirts, Polos, Bags, Greek Lettered Apparel and other Alpha Phi gifts.
Need a custom order for your chapter? Contact your Alpha Phi Account Manager (Brayden Jessen 888.501.5510 brayden@zomedesign.com) to get started right away.